Thank You to Our Summer Reading Club Participants

Rronaldo had a great time participating in this summer's reading club, Read for the Win with all his library friends! Rronaldo had fun completing his reading log and wanted to thank everyone who participated in the Summer Reading Club! Great job reading!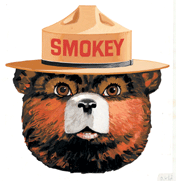 Our favorite moose also wanted to tell you about the Smokey Bear drawing we are having in Youth Services. In honor of Smokey Bear's birthday in August, we will be having a drawing for a plush toy of Smokey Bear. Entry slips are in Youth Services. The drawing will be held September 2nd.
Remember, "only you can prevent wildfires."